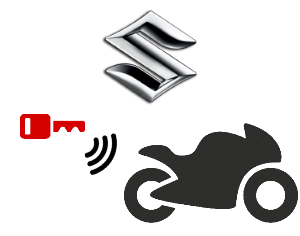 CLICK HERE, for downloading the Key form (PDF)
or as Word document (DOC)
Suzuki
Suzuki uses the SAIS-System (Suzuki Advanced Immobilizer System) or SCKS (Suzuki Card Key System).
The immobilizer system is built in the ECM/ECU-unit, so we will need the unit in order to make the keys work.
The red key is the main key. The black keys are the keys for daily use. Nowadays Suzuki motorcycles do not have a red key, but only black keys.