Improved Yamaha RD350 RZ350 YVPS CDI replacer 29K 31K
For:
Yamaha RD350 YPVS CDI
Yamaha RD350LC YPVS CDI
Yamaha RZ350 YVPS CDI
Yamaha RZ350R YVPS CDI
On the box:
29k-50
070000-106
52Y-50
070000-122
29L-85540-50
29K-85540-50
NIPPONDENSO CO.,LTD
Other names:
EC Ignitor, brain, ignition module
CDI, ECU, ECM computer, Black Box, Ignitor
ignition control module, spark box
Ignition Spark Control Module
CDI Ignition
- The highest demands on reliability and accuracy will supply optimal performance and withstand severe vibrations and heavy loads.

- What's improved/better compared to the original unit?:
- The unit is protected against overvoltage (defect voltage regulator/rectifier, bad battery, ...).
- The unit is protected against a defect ignition coil and reverse battery connection.
- The unit has a acceleration correction, when the bike rev's up the ignition delay will be a bit more (in proportion). Smoother acceleration.
- The unit uses digital technique, so it is more accurate and temperature changes have no influence, the curve is also optimized for more power.
- When the battery voltage changes the unit will change the control to the ignition coil so the spark power will stay the same.
- Start mode, during engine start the unit will give more current to the ignition coil for a faster start.
Click here for a fitting description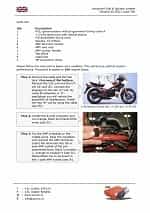 Qty Description
1 ADI, ignitionsystem with programmed timing controll
1 +12Volt ignitioncoil with double output
1 Pre-assembled wiring loom
1 Resistor 15 KOhms
6 AMP terminal, female
6 AMP wire seal
1 AMP socket, female
1 Tap splice
5 Cable ties
2 3M connection strips

3 Year warranty

Team-Carmo
Ci sono attualmente nessuna domanda su questo prodotto.
Perche' scegliere Carmo?
Fino a 3 anni di garanzia
Prezzi fissi delle riparazioni
Riparazione entro 5 giorni
Visualizzato Recentemente