CLICK HERE, for downloading the Key form (PDF)
or as Word document (DOC)


Reprogram red (main) key.
For this price we can reprogram the red chip key for your Yamaha motorcycle.
First your unit will be opened, then it will be reprogrammed and re-potted to create a watertight seal.
After this modification the chip key will work like original, with a working immobilizer system.
Your unit will be ready for shipment within 3 working days.
This service comes with 1 year warranty.
For this service you have to ship several parts to Carmo electronics:
- ECM/ECU unit of your motorcycle and immobilizer ignition switch ring antenna (see picture).
- Copy of the original purchase papers of your motorcycle.
- Copy of identification / driving license.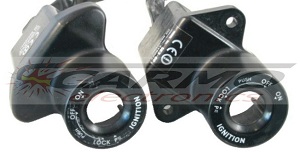 MORIC
model no. 5KS-00 / serial no. 310007
model no. 5VS-00 / serial no. 311259
model no. 5SL-00 / ic: 4966A-5SL00 / 5SL00570030A

Some more information about the red Yamaha key:
The key is electronically linked to the immobilizer.
You can't just cut a key and use it. The red key is the coding key, and if you lose this one then you can't recode a new black key to suit your bike.
If the code re-registering key is lost (the one with the red bow), registering new codes in the standard keys is impossible.
The standard black keys can still be used to start the vehicle, however if code re-registering is required (i.e if a new standard key is made or all the keys are lost) you need to send us the ECM/ECU-unit and immobilizer ignition switch ring antenna"
The key(s) is / are not included. After this service you will need to first use the red (master) key to reactivate the system.
(If you have a working black chip key, we can offer another service)

Team-Carmo
There are currently no questions about this product.